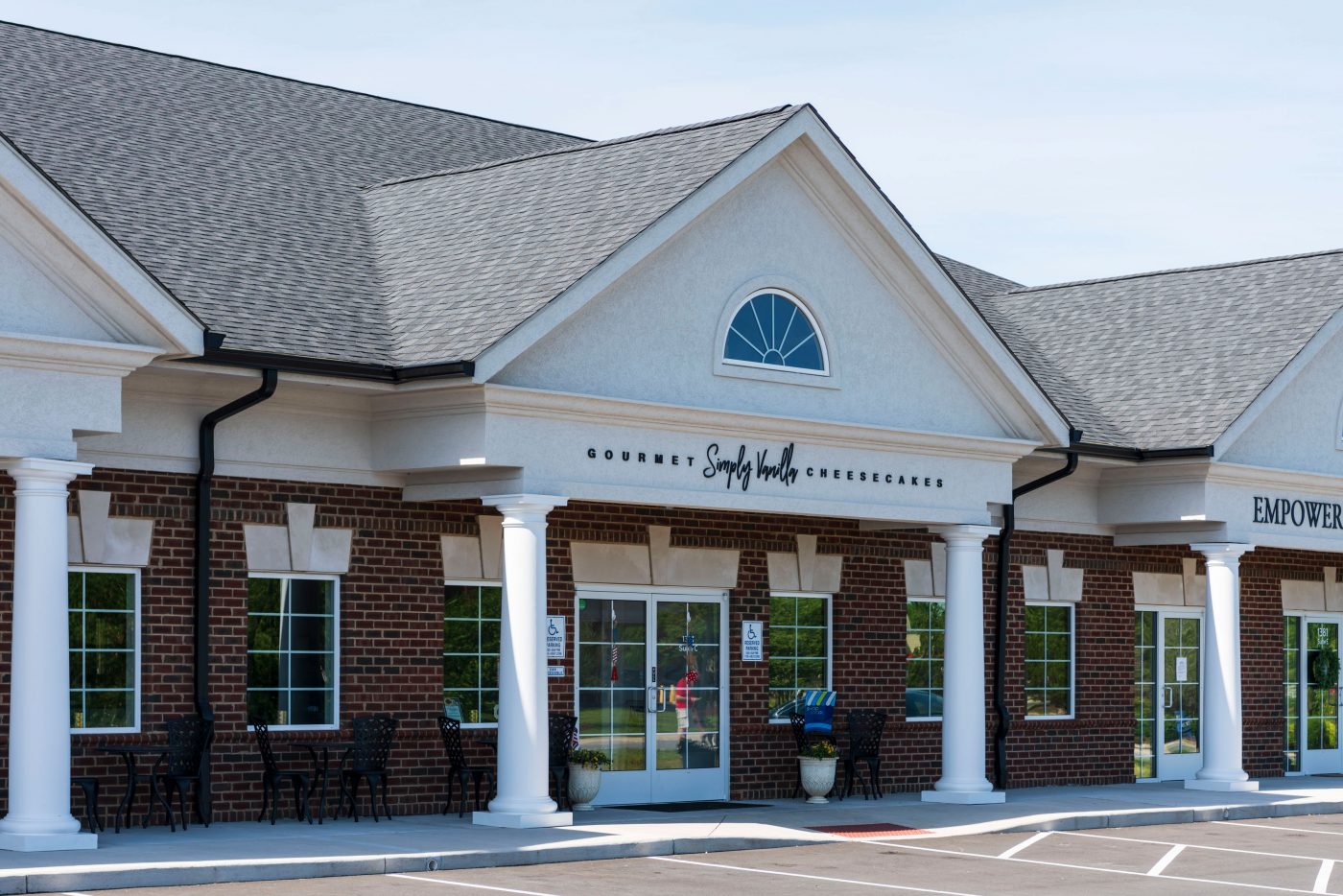 In 2019 Architectural Partners designed the first of five buildings for the Jefferson Park Office Complex in Forest, Virginia. Each of these buildings was constructed initially as a completely enclosed shell space to accommodate up to five future unknown clients. Within the building shell, there were no interior slabs or tenant party walls. The intention was to allow as much flexibility as possible for any future tenants and their space needs.
As construction on the first building was nearing completion, three businesses expressed interest in moving their operations to this new location. Architectural Partners was then hired to work with each business, define their needs, and then develop three adjacent layouts – one tenant upfit for each business- to totally fill the available space. Once the design for each tenant was determined, Architectural Partners then worked with the client's builder and each particular tenant to produce construction drawings for a building permit.
Prior to moving into this building, Simply Vanilla Gourmet Cheesecakes was a rapidly expanding home-based operation with a fast-paced staff of four working out of their kitchens and a company van. They had an urgent need for a custom-designed commercial kitchen along with a fixed location for patrons to purchase and enjoy their wares. These two needs drove Architectural Partner's design for their new space.
The "front of house" consists of an open and light-filled casual dining area for twenty or so customers with a large refrigerated and lighted display counter with accompanying point of sale, along with required fully accessible restrooms. Double doors at the kitchen and front entrance allow the cheesecakes to be rolled out to delivery vans each morning. The "back of house" is the kitchen which comprises just over half of the company's space with 812 s.f. of food preparation area. Architectural Partners worked closely with Simply Vanilla's experienced staff to lay out this fully commercial kitchen facility utilizing all available space in the most efficient manner and with a constant consideration of process. The kitchen incorporates a walk-in refrigerator, a walk-in freezer, and over 30 pieces of equipment and fixtures, many requiring specific electrical and plumbing connections. A small office and custodial space adjoin the kitchen area.
Two-hour rated fire barrier walls separate this restaurant use from business offices on one side and an adult daycare facility on the other. Within these party walls, studs are staggered and interlaced with sound attenuating material so that unwanted tenant noise is not a problem. On the other hand, the bakery smells are entirely welcome each day and sweet proof that this business is thriving in their new location.