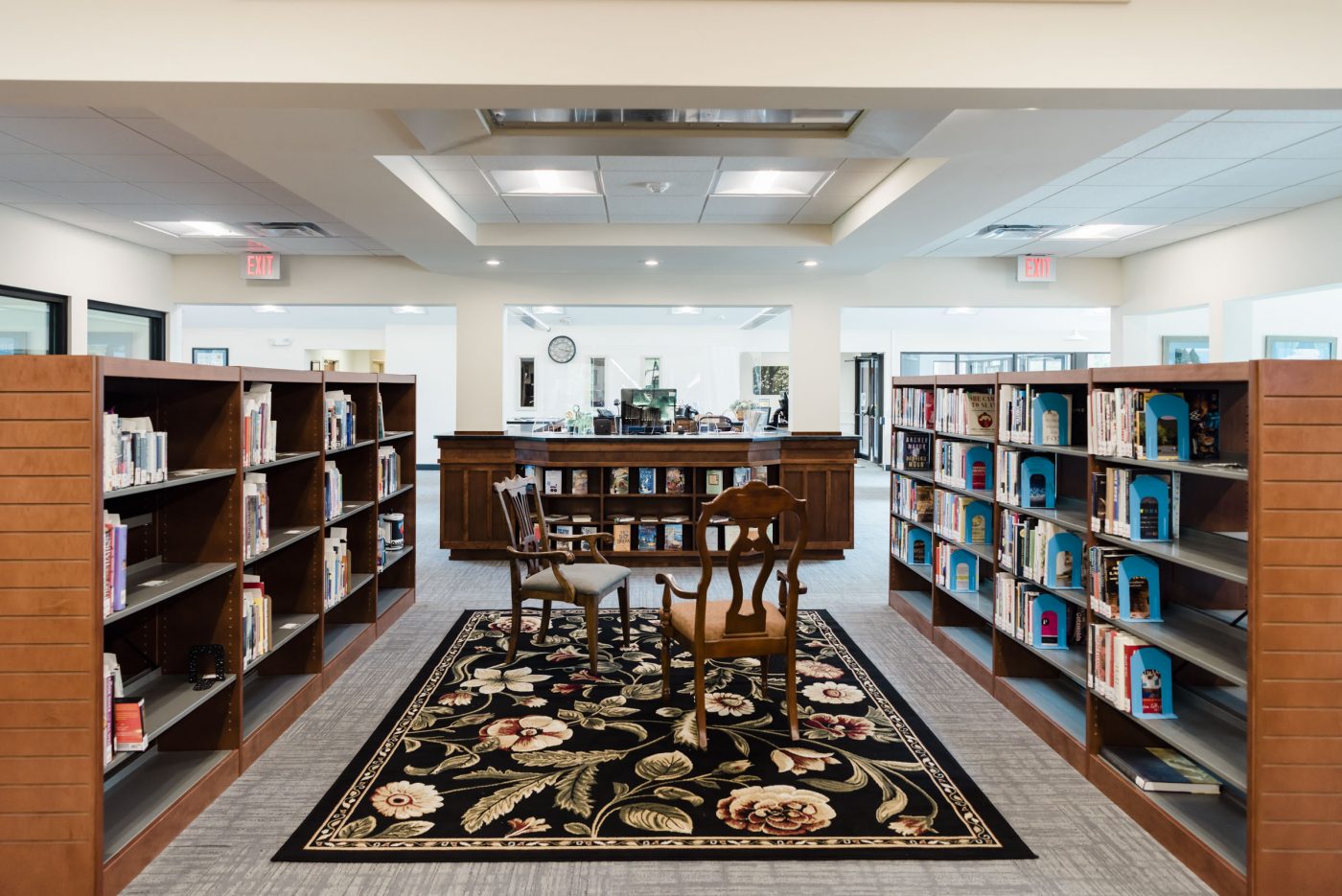 The original Nelson Memorial Library building was built in 1988 and dedicated to the memory of Nelson County victims of 1969's devastating Hurricane Camille. As the County's only branch library, the facilities saw steady and growing use with internet access and community meeting space becoming ever more important as a library benefits in this rural county. Long needed plans for expansion were finally developed past the concept stage when the County hired Architectural Partners in 2018 to provide design and construction documents for doubling the current Library size. Construction of the addition and alterations began in early 2019 and was completed in June of 2020, with the full range of construction services provided by AP and associated consultants.
The new addition repeated the familiar architectural forms of the original design while refreshing the overall building appearance. Dated and warped storefront windows on the original building were replaced with new curved top units matching windows in the new construction. Matching brick provides a base for new board and batten walls, and a new green standing seam metal roof was installed on both new and existing construction. Finally, a new paint scheme for the entire building put an end to the tiresome "park service" look.
On the interior the existing stacks and circulation desk were relocated and redesigned for handicap accessibility, visual surveillance, and patron service. The new stacks area repeats the vaulted ceiling of the original with a view to the west of gardens and trees. Meeting rooms and a computer lab flank the library collection and provide multiple new locations for study, instruction, and business use. The entire facility is connected to the fiber optic system of the James Madison Regional Library and offers Wi-Fi throughout. The new, custom-designed circulation desk is capped with a soapstone counter quarried in Nelson County and unique to this area.
New construction and alterations also provided a new Branch Manager's Office, a new Staff Workroom with kitchenette and restroom, a new Research and Genealogy Room, new Reading Rooms and Nooks, a new Family Assisted Restroom, and improved book drop-off and emergency exits. As a part of this project, existing fluorescent lighting was replaced with energy efficient and dimmable LED fixtures.
With this substantial expansion and the multiple improvements, the library is well poised to continue its role as living memorial, commemorating the past and serving the future.